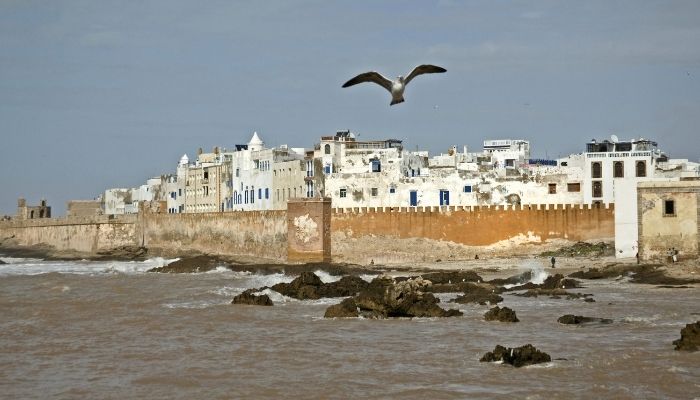 Our Morocco Travel guide will help you with all you need to know about how to travel to Morocco for your Morocco Vacation.
– It is not recommended to travel Morocco by train or Bus when planning to tour Morocco for a short period of time like a week or 2 from one end, and on the other hand, most lines are limited and you won't be able to cover some of the best Morocco highlights like the desert, the Berber villages, the Dades Gorges, The high atlas mountains, The blue City, and the charming city of Essaouira, etc.
– The best way to tour Morocco is by hiring our Morocco Travel Agency to customize your trip based on your time, budget, desire, with your own private car or minivan, and English speaking guide, in order to enjoy your Morocco tour.
– Morocco is an entirely safe country, but we advise you to tour any desired area with your tour guide for safety and spend quality time on your own when you desire at special places of interest. So the best way to travel is on a guided tour to Morocco.
– Morocco is a relatively liberal country but keeping in view that it is a Muslim majority, Most languages are spoken by the locals, especially French, English, Spanish, German, Italian. Only a few guides in Morocco speak Russian, Chinese, and Japanese.
– When traveling in Morocco, you should ensure to dress conservatively with regards to the local sentiments. American casual is acceptable. When visiting a mosque or a shrine, is appropriate for a woman to put a scarf around the shoulder.
– Morocco is well-known for its authentic and delicious cuisine. When taking a Morocco tour with us, we will make sure you will have the best foodies experience while traveling and exploring the country at the same time.
– In terms of shopping for souvenirs, you need to expect to learn how to bargain, as there is no set price. Always cut the asking price in a half and walk your way up until you get your 25% discount or a fair price. That is part of the Morocco culture.
– ATM is available in major cities. You can use your credit cards at major shops and nice restaurants as well as hotels.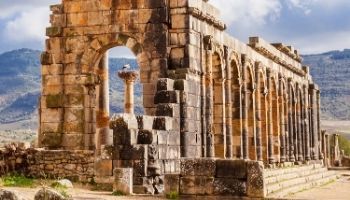 Morocco Tours and Best Highlights
Some of the best Morocco Tours highlights are the imperial cities, Marrakech, Rabat, Fez, and Meknes, and in particular Marrakech and Fez. A tour around Morocco that would include, a camel ride with an overnight in the desert over the golden sand dunes, ancient architecture, delicious cuisine, and rich culture is what Morocco is known for, by traveling through the road of thousands of casbahs from the desert through the Gorges to Ouarzazate. A special visit to the world heritage site of the famous Kasbah Ait Ben Haddou. Traveling through the high atlas and spend a night or 2 at a charming Kasbah to explore the Berber lifestyle and visit some of the Berber villages. Two other Morocco charming cities to must include in your trip if you have the time are the Blue city of Checfchaouen and Essaouira. Casablanca is a very modern city, it is worth visiting for its famous Hassan II Mosque and Hollywood fans are all aware of the masterpiece of the 1940s movie called "Casablanca", whose story revolves around the Moroccan city of Casablanca which was a French colony back then. Morocco has such a colorful vibe to it that you can never get anywhere else in the world. So Morocco Travel agency would make sure will get to have a wonderful journey for a trip of a lifetime.

The above is what we recommend for a trip between 10 to 15 days. But if you can afford more time, then it would be worth to add either the north part of Morocco like Tangier and Tetouan or add a few more days traveling the south of Morocco for a special visit to Taroudant, Tznit, and Agadir that is often called the Miami of Morocco.
Best Time to Travel to Morocco
Morocco is very known for its warm climate all year round, and even in December, January, and February, the temperature is friendly, unlike other countries. For folks who are used to the heat like from Texas, Arizona, Florida, and California, July and August can be very hot in Morocco. So in general, the best time for an enjoyable Morocco tour is anytime between March to June and September to December. The temperature could be anywhere from 60 to 90F.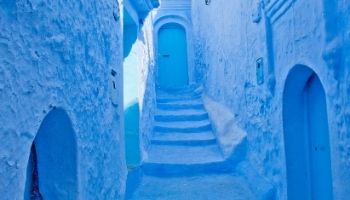 Morocco Tours and Morocco Visa Info
List of countries whose citizens are exempted from entry visa into Morocco

Here is all you need to know about Morocco Visa and Application

The competent authorities issue four types of entry visas to Morocco

Short validity visa
The short-term visa allows a foreigner to enter the territory of the Kingdom of Morocco for reasons other than immigration, for a short stay uninterrupted, or several short stays in the case of multiple entries.
The duration of each stay is from one to ninety days.

Long validity visa
The visa of long validity, over three months, is a visa of multiple entries issued by the Moroccan diplomatic or consular services, after consultation with the Ministry for Foreign Affairs and International Co-operation.
The period of validity of this visa cannot exceed one year and the duration of each stay is from one to ninety days.
A foreigner, holder of a long-term visa and wishes to stay in Morocco for more than three months, should request a registration card from the competent services of the General Directorate of National Security.

Transit visa
The transit visa authorizes a foreigner, traveling to a third State, to cross the territory of Morocco. This visa may be issued for one or two transits with a duration of stay of each transit not exceeding 72 hours.

Visa issued at the border
In some exceptional cases, the Security Services may issue short-stay and transit visas at the Border Posts.
For countries where Morocco is not represented, requests must be made to the diplomatic mission accredited in that country or to the Honorary Consuls. In the absence of these representations, requests will be addressed directly to the Moroccan Ministry of Foreign Affairs and International Cooperation, Directorate of Consular and Social Affairs – Rabat (visa@maec.gov.ma) for a visa to be issued at the airport.

Important observation:
In accordance with the regulations in force, the change of type of visa already obtained is not allowed once its holder enters the Moroccan territory. A new visa must be requested from the country of residence of the person concerned.
List of countries whose citizens are exempted from entry visa into Morocco

Documents to be submitted for your application (Tourism visa)

Submitting your visa application
You may submit your visa application by mail, in person, or by messenger. If mailing your documents, do not use regular mail. Express-mail from the United States Postal Service is the only mailing form accepted for applicants residing in the USA. The postal service will provide you with a tracking number. Use this number to track where your application is during its route to us.
Once we receive your application, we will contact you if there is an issue. If you do not hear from us, please assume that your application is fine.
Your application MUST include a prepaid, self-addressed USPS Express Mail or Priority Mail envelope. If this is not included, we will be unable to send your processed passport back to you. (This prepaid envelope will have a tracking number associated with it. Please use this number to track your passport. Completed visa applications should be mailed to the following address:

Visa Department
Consulate General of the Kingdom of Morocco
10 E 40 Street 23 Floor
New York, NY 10016

The required documents

1-Entry visa application form signed and appropriately filled out in capital letters;
2-Two passport size color photos with white background;
3-Copy of the applicant's legal status in the US: Green card, F1 Visa, H1B-Visa, L1 Visa, O1 Visa, J1 Visa, or G1 Visa. (B1/B2 Visa is not accepted);
4-In case the applicant is an F1 or H1B US visa holder, a completed I-94 form is required;
5-Valid passport: The validity of the passport or the travel document must be longer than the duration of stay;
6-A photocopy of the passport (pages indicating the identity & validity);
7-Bank statement;
Or attestation of invitation duly legalized, in case of family visit, including guarantee of covering medical and possible repatriation expenses
Or request from an authorized travel agency or recommendation of the Ministry of Tourism or the representation of the Moroccan National Tourist Office;
8-Travel Insurance.
9-Chancery fees:
Up to 90 days stay with one entry: $23.85
Up to 90 days stay with two entries: $35.80
**Visa application for a minor: Traveling minors need to provide a notarized letter signed by both parents authorizing the child to travel with a designated adult. The parental authorization should be submitted with the application.

Applicants who do not reside in the USA
*Residents of countries other than the USA must contact the nearest Moroccan Consulate or Embassy.
*Residents of the Caribbean islands should contact their nearest Moroccan Embassy (the Dominican Republic or Saint Lucia).

At the time of visa issuance, please provide the following documents: ​​​​​​​
You may be asked to provide the following while we are processing your visa. Do not send or submit unless we contact you:
A copy of roundtrip flight itinerary;
A hotel booking, or Introduction of a "Voucher";

Method of payment
Please be advised that this Consulate General does not accept personal checks. You can pay with a money order through the mail or when applying in person at the New York office. Please do not send cash in the mail.
All payments should be made payable to the Consulate General of the Kingdom of Morocco.

NOTE:
The visa officer reserves the right to ask for more documents if necessary.
The satisfaction of these requirements does not necessarily entitle the applicant to a visa to enter Morocco.

Disclaimer
The General Consulate of the Kingdom of Morocco shall have no liability to any visa applicant, or any other person relying on or benefiting from any visa application, for any commitment, cost, or expenditure incurred in reliance on or anticipation of receiving a Moroccan visa, whether within a particular timescale or at all, including but not limited to air travel, hotel, and other travel and accommodation arrangements, and any other arrangements made.

Important Information
*Visa drop off and pick up schedule: Monday-Friday: 10:00 AM to 1:00 PM.
*For families applying together, please make sure that you create a separate file for each individual. Please do not bundle all documents into one file.

PLEASE DO NOT STAPLE PAGES TOGETHER. This adds unnecessary work.
For other types of visas, please click here.

Thank you for your interest in visiting our Land of hospitality

Akim,
I really do not even know how to thank you! Our trip was a true experience of a lifetime from our pick up at the airport by our guide and throughout the guided and attended journey we had with Ibrahim. Just amazing.
Your country is fascinating, the diversity of people, culinary, culture, and topography in such a small area is astounding. Around every corner, we became more and more enthralled with Morocco. One Riad was more beautiful and welcoming than the next. Then of course there was the charming and rustic Kasaba Omar. What a magnificent place to visit and spend quality time there. The warmth and hospitality that was shared with us could not have been more perfect… and what a view!
Please feel free to have any of your future clients contact us if referrals needed. With warmest regards and my gratitude, Ms. Mater, USA / traveled – 2019

Dear Akim,
We had a fantastic trip. So many diverse experiences and beautiful topography, great hosts, and hospitality. Everyone was very kind. All of the guides were very good. The desert and the Ourika valley experiences were very memorable at that charming Kasbah Omar in the middle of the Berber village.
Thank you for arranging a great trip for our family and we hope to return to Morocco again.
Pasha & family, Australia / Traveled – 2019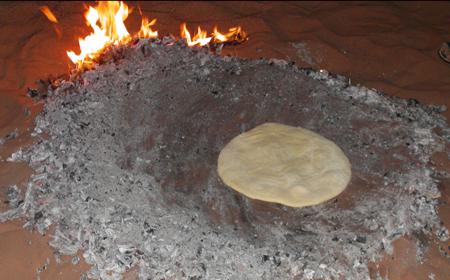 Sahara Desert Morocco Trip